Cambridge Sound Management
Regular price
Sale price
$ 330.00
Unit price
per
Sale
Sold out
The Sonet Qt is a wall-mounted system that improves office privacy and confidentiality using proven sound masking technology. It reduces the intelligibility of nearby conversations by created a specifically designed acoustic, white noise environment that covers up and masks unwanted noise.
The Sonet Qt can be installed anywhere in the office, revolutionizing the acoustical treatment of open workspaces. It is as effective as traditional in-ceiling sound-masking systems, but is far easier to install, significantly less expensive and completely portable. The Sonet Qt sounds like the gentle whoosh of a high-quality HVAC system. The sound generated is specifically tuned to mask the sound of human voices for maximum privacy at minimum masking volume.

It can be used in individual cubicles for employees who want more privacy, an enclosed office for complete privacy, and open areas, such as waiting rooms, to improve the confidentiality of conversations in nearby offices.

The Sonet Qt can be installed quicky and easily. Additional Sonet Qt bases and emitters can easily be added where more speech privacy is needed, emitters can be moved to new locations to improve the privacy field, and the whole system can be quickly relocated to another space if the occupant moves. The masking sound also greatly reduces other intrusive noises in the workplace, helping everyone concentrate better and feel more relaxed.

The base system is recommended for masking the personal space of one employee. The Sonet Qt is an excellent solution for cubicle type workspaces where there are no walls to contain the masking sound. For enclosed spaces with hard surface walls, use approximately two emitters for each room of up to about 200 square feet, and one additional emitter for each additional 100 square feet.

Each Sonet Qt can accommodate up to 2 Extension Kits, for a total of 6 emitters.
Base System: One sound generator/volume control unit, two sound masking emitters, 6-volt power supply, and mounting hardware.
Extension Kit[SOLD SEPARATELY]: Two additional sound masking emitters. Each Sonet Acoustic Privacy System can accommodate up to 2 Extension Kits, for a total of 6 emitters.
Sonet APS meets HIPAA and GLBA federal guidelines for speech privacy
Coverage Area Type: Personal Workspace up to 600 ft²
Maximum Speakers: 6 (with 2 optional extension kit)
Zones: 1
CONTROLLER DIMENSIONS: 6"x 3"x 1.5" (15.2 cm x 7.6 cm x 3.8 cm)
SPEAKER DIMENSIONS: 6"x 3"x 1.5" (15.2 cm x 7.6 cm x 3.8 cm)
CONTROLLER WEIGHT: 5.2 oz. (148 g)
TOTAL SYSTEM WEIGHT: 1.1 lbs. (499 g)
Sonet Qt® can help reduce distractions in your personal space. Sonet Qt owners currently use Sonet Qt to reduce distractions and improve speech privacy in a variety of locations including:
- Individual cubicles or offices
- Home offices
- Nurseries
- Bedrooms
- Hotel rooms
- Any personal space
EXTENSION KIT:
The Sonet Qt® Extension Kits includes two additional speakers adding another 200 sq. ft. of coverage to Sonet Qt
WALL MOUNT: The Sonet Qt® Individual Sound Masking System comes complete with Velcro attachments for easy installation on hard surfaces, like office walls.
FABRIC PANEL MOUNT: The Sonet Qt® Individual Sound Masking System also includes attachments for fabric covered surfaces, like cubicle panels, for easy installation.
Share
View full details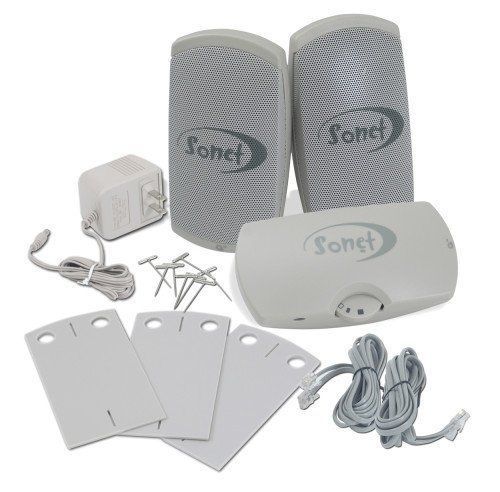 More Information
Shipping & Returns

OfficePrivacy.com is happy to accommodate returns and exchanges within 30 days from receipt of merchandise. However, returned merchandise will only be accepted for return if accompanied by a Return Merchandise Authorizaton number.

Use this link to request an RMA: RMA Request

Please include an order#, company name, and reason for return.

Please note that merchandise received more than 30 days after purchase will not be accepted for return. Merchandise must be in its original condition with original packaging. Shipping fees are not refundable unless the item was damaged during shipping. A full refund will be given for returned items, less the shipping cost.

Refunds can only be credited back to the card used to make the original purchase.

If an item is defective and within our 30 day warranty, we will pay the shipping costs for the replacement item.